Sale World Cup Pass: sold out
Sale single day tickets: starts on 01 May 2023, 00:00 (local time)
Before the start of the event, tickets are available exclusively online. From June 12-18, there will also be on-site ticket sales, if tickets are still available at that time.
Tickets are available for the following events:
14 June: Boulder Semifinal Women
15 June: Boulder Final Women
16 June: Boulder Final Men
17 June: Lead Semifinals Women & Men
18 June: Lead Finals Women & Men
14 – 18 June: World Cup Pass for all events mentioned above
All other events (Qualifications, Paraclimbing, Speed European Cup etc.) can be visited free of charge.
A complete timetable can be found HERE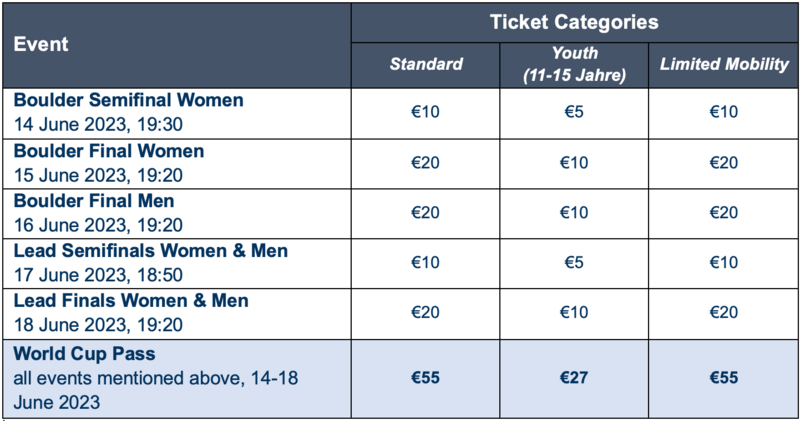 Admission is free for children up to 10 years old. A ticket is not necessary. The entry to the event venue is only possible when accompanied by a person of legal age.
Youth: reduced prices for children and teenagers between 11 and 15 years old. The age of 15 must not be exceeded at the time of entry to the event area. An ID must be shown at the ticket control.
Standard: All visitors 16 years and older.
Restricted mobility: Persons with physical impairments (wheelchair users or persons with restricted mobility) and their accompanying person (max. one person) must select this ticket type in order to access the designated area on site.
Only standing places are available at the event venue.
Exception: for people with reduced mobility, there is a designated zone that is suitable for wheelchairs or has seating for persons who need it. Access to this zone can only be granted if a ticket is also purchased for it (this also applies to any accompanying persons).
Please read our house rules carefully before your visit and pay particular attention to the list of prohibited items that may not be taken onto the premises.
Free use of public transport within Innsbruck
All of our tickets (World Cup Passes and single tickets) include free arrival and departure to the respective event with the means of public transport inside the core zone of Innsbruck. This service is provided by our mobility partner IVB. Because there are no parking spaces available at the event venue, we kindly ask you to use this offer and travel to the venue by public transport. In case of a ticket control the event ticket must be presented to the ticketing officer.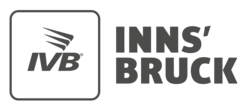 More information and answers to the most frequently asked questions can be found HERE
If you have any other question, you can contact us: worldcup@austriaclimbing.com